Corporate Engagement for CSR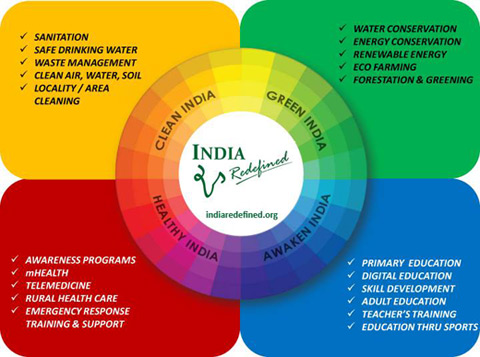 Please Help in getting associated with corporate heads & PSUs,CSR heads as our ngo INDIA Redefined www.indiaredefined.org sINDIA Redefined has very innovative social sector csr projects. Ngo INDIA Redefined extending towards Globe Redefined with 1300000 ( 13 lakh ) supporters,450 ngo partners, experts ,technology providers,implementation partners, project professionals all over India and many other countries too with innovative projects for social sector & with csr funding implement in any state.
INDIA Redefined is a platform which not only acts as a CSR hub, but acts a Single Point CSR Solution provider with the help of our empaneled Experts, Implementation Partners, NGOs, Innovative Technology Providers, Auditors etc.
Please find the broad categories and some activities which have been done (or underway) under INDIA Redefined. This should give a fair idea of the range of activities or projects your Organization could be associated with INDIA Redefined. We are also open to create customized program or project, if required. Once your team has gone through this, please identify a few pilot activities for which we can work on the details of engagement to develop a program/ project and execute it.
INDIA Redefined carries activities in the following indicative areas -
Clean India - Water, Sanitation & Hygiene (WASH), Waste Management, Air, Water, Soil Pollution etc.
Awaken India - Awareness , Advocacy, Empowerment, Education, Skill & Livelihood Training , Teacher's Training etc.
Green India - Environment, Renewable Energy, Sustainability, Bio Diversity, Eco farming, Forestation etc.
Healthy India - mHealth, Telemedicine, Rural Health Care, Senior Citizens Care, Emergency Response Training & Support and other health related areas etc.
We look forward to your association in following ways with INDIA Redefined -
Conducting your CSR projects with INDIA Redefined
We will be pleased to share some ideas for innovative projects and activities that can be executed by INDIA Redefined at a very small cost, ranging between Rs. 3~10 Lakhs. These projects can either be either sponsored or can be conducted as a part of CSR Program.
Direct Financial support through donation to our parent body "Thinking Hearts Foundation" for Corpus building for INDIA Redefined Capacity Building
Project or Activity specific support
We will be glad to give our presentation which is more specific and will be of your interest for corporate engagement. Pls. contact [email protected] with your interest areas.